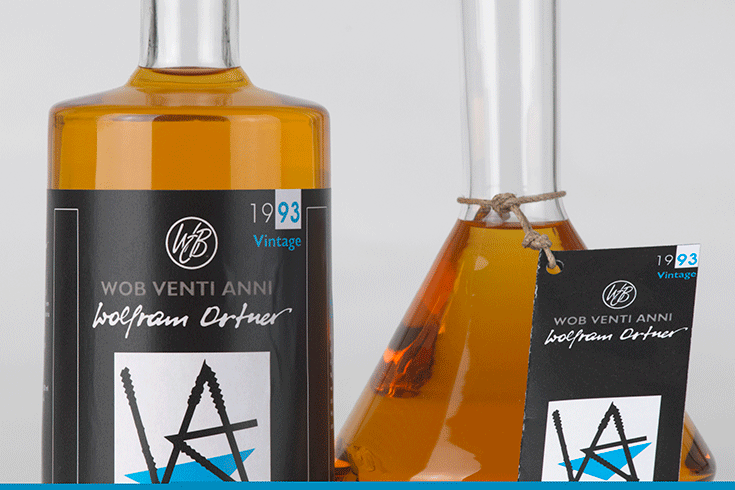 Venti Anni Blue 1993: WOB the "Second"
With the Venti Anni 1992, Wolfram Ortner started a premium apple barrique series, so-to-say as a review of the development of the distillery in the Carinthian Nock-Land. It is about a vintage series for collectors and friends of noble distillates. The vintage as well as the "colour of the vintage" and the strong-as-an-ox 48% alcohol are mentioned on the lable. They give the product a tremendous backbone but are still not disturbing.
The Venti Anni Blue 1993 is the second product of the series and is based on four different apple varieties which age in select barriques and as a result show the signature of the stillman.
The concept of "apple & wood" has been further developed over the years – the basis is select apple varieties from the Lavant Valley (Eastern Carinthia, Austria) which are fermented and distilled during the entire harvest season and thus result in a special cuvée. The distillates are aged and stored in barriques made of French Limousin oakwood. Tightness and length are characteristic of this series – the powerful aromas of the apple-wood composition can hardly be surpassed.
Casually speaking these products are called "flavour and aroma bombs". Connoisseurs appreciate the ripe and multi-faceted apple fruitiness in combination with the fine roast aromas, and enthuse about the mixture of coffee, leather and vanilla, the great extract sweetness, tremendous tightness and almost endless length.

The VA Blue 1993 also comes in the hand-blown 0.5 litre design bottle, at the same time a stylish decanter for spirits. The WOB Venti Anni Blue 1993 was bottled in a "very small-scale" series and is now availablein the WOB-shop or via the online shop www.wob-shop.com .

Information & orders:
Destillerie Wolfram Ortner, "authentic design",
Untertscherner Weg 3, 9546 Bad Kleinkirchheim, Austria,
Tel. 04240/760, Fax 04240/760-50, E-mail: This email address is being protected from spambots. You need JavaScript enabled to view it., www.wob.at