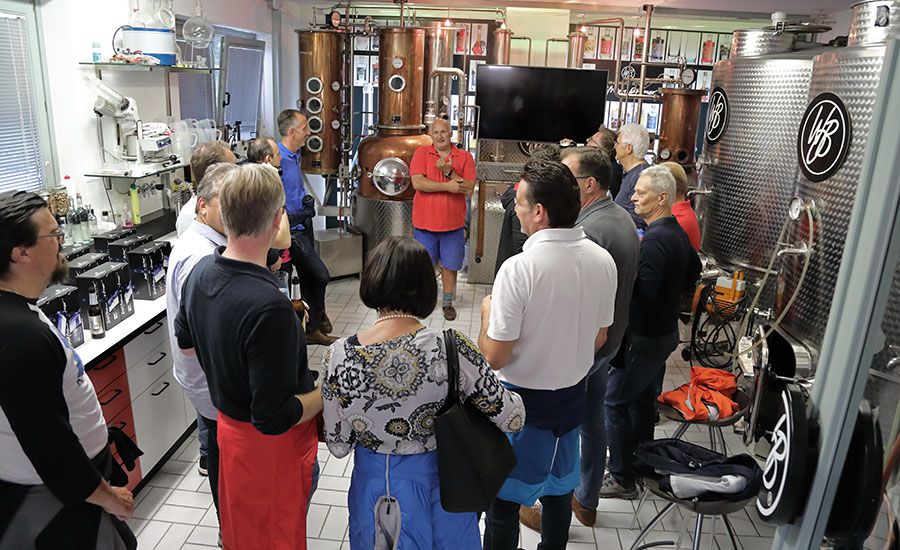 WOB guided Distillery Tours
Would you like to look behind the scenes in the WOB distillery by Wolfram Ortner?
For 10 people or more, we gladly offer an interesting distillery tour, which takes about 60 minutes. Visitors are to receive interesting information about the spirits and the distillery. After the informational tour, enjoy sampling 5 quality WOB products. The tour ends with an approximately 15-minute video screening that gives you a better glimpse at the real life in the WOB world.
Please book the guided tours at least 4 weeks before the desired date, with advance payment of Euro 25, - per person. We can also offer guided tours with a small snack from regional farmers – masters of the fine goods - the Hübelbauer farm. Also, tastings with a larger number of distillates are of course possible.
Wolfram Ortner is now offering personalized distillery tours - the popular guided tours through the WOB distillery have been given even more attractive and designed according to customer wishes - various themes are available.

Elixirs: Gin, Red Bi, Anise, Absinthe, LAV, SIN, KGB
In the hood of wood: Rum W, Rum B, Wob Brandy, Nock Land Whiskey, Nock Land Whiskey Double Matured
Coffee distillates: WOB DÖ BIANCO, Fior d'Arancio, WOB DÖ FLEUR, WOB DÖ NERO, WOB DÖ DAVI
Criss-cross: you order - we serve and commentate!
Orchard Classic: Williams, raspberry, grape
Venti Anni: vintage vertical from 1993 to 1997
Cigar Distillates: WOB DÖ FLEUR, WOB DÖ DAVI, Evolution, Venti Anni 1996, WOB 24-carat
Culinary specialties: Under the motto "Spirits & WOB-Cooking" we offer a multi-course seasonal menu with wine and spirits pairings for a maximum of 10 persons.
We look forward to hearing from you and would be happy to help you customize the perfect tour that fits your needs. Just send an e-mail to This email address is being protected from spambots. You need JavaScript enabled to view it. or call us at 04240-760!